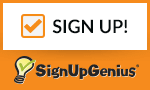 Project Backpack 2019 Agency Participant Guidelines
Agencies can participate in 1 of 2 ways:
Host an agency table during the event on August 3 from 9 a.m. – 1 p.m., where families can freely visit your table for information, or
Provide 1,000 printed copies of your organization's flyer by July 25 for us to provide to the families. No table provided for this option.
Eligibility & Fees:

Organizations and businesses located within or that serve the Elgin Community College (ECC) district will be considered as a participating agency.

Non-profit agency participation fee: $0
For-profit agency participation fee: $150 donation.
Mail donation checks to Elgin Community College,
ATTN: Megan Highland, 1700 Spartan Drive, B173, Elgin, IL 60123
or refer to project-backpack.org for online donations.
Please include "Project Backpack" in the memo.



Content of Materials/Flyers:

Activities or information must be appropriate and relate to an activity, event or an agency that offers widely appealing recreational/educational/informational program options for students and families.
The text of the material must include a name, telephone number, e-mail address or website where inquiries may be directed should families have questions.

Material May Not Contain:

Any direct solicitation of money except for dues for membership or fees for an activity announced in the material.
Material which is commercial in nature.
Material which is in direct conflict with any law or ECC Policy.
Material which is political in nature or in conflict with tax-supported efforts in effect.

Flyer Size & Quantity: (THIS APPLIES TO OPTION 2 PARTICIPANTS ONLY)

Organizations and/or businesses are limited to one produced flyer, which may be double sided, but no larger than 8.5 x 11.
1,000 printed copies should be mailed or dropped off to the below address no later than 4 pm on Thursday, July 25.
Elgin Community College
ATTN: Student Life/Megan Highland
1700 Spartan Drive, Room B173.04, Elgin, IL 60123
Any excess flyers or flyers not meeting the above guidelines may be discarded.
For more information, please contact Megan Highland, ECC Student Life Coordinator, at mhighland@elgin.edu or 847-214-7659. Thank you!
Event Partners: Elgin Community College, ECC Faculty Association, ECCP3, Community Crisis Center, Kane County Regional Office of Education, Kane County Teachers Credit Union, School District U-46, and United Way of Elgin.